How to set up the Facebook Pixel using Google Tag Manager.
Recently I was tasked to deploy a Facebook Pixel on an ecommerce site. While deploying tags with Google Tag Manager is normally a relatively straightforward thing to do, I found the documentation around Facebook's Pixel to be sub-par, a bit confusing, and in need of improvement. So I decided to write this guide both to help out those readers who are perplexed about the how to deploy the pixel, as well as spill some digital ink critiquing the FB Pixel documentation.
Also, I very humbly have found that this blog listed in "top analytics blogs" type articles, oftentimes with a caveat that "Analytics Ninja doesn't write very often, but when he does…." A blog post from yours truly was well overdue, and I wouldn't mind boosting up this site's SEO as a result (Google being all keen on fresh content and such). Feel free to link to this post with an anchor-text rich "do follow" text. Maybe something like [
Google Tag Manager Consultant
]. You'll be helping me cover the costs of raising 5 kids. 🙂
So, here we go….
Step 1 – Create a Facebook Pixel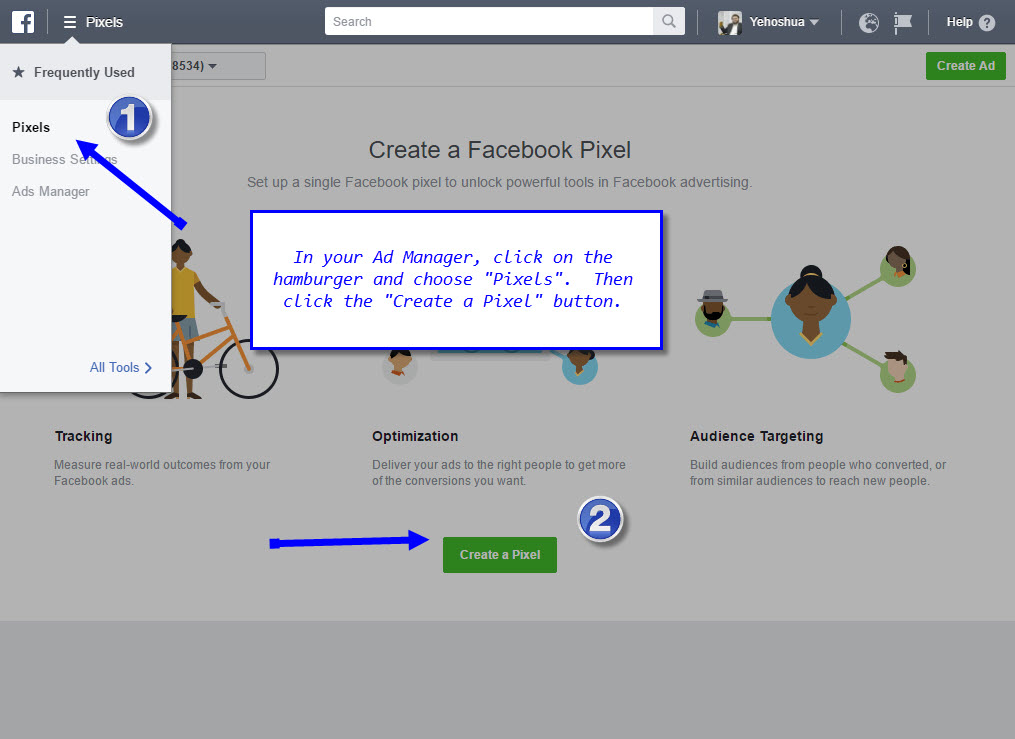 Once you click the create pixel button, you'll need to give your pixel a name and agree to Facebook's Pixel Terms. As an informed reader, I went through the TOS that they have on their pixel pretty in depth and I still don't really fully understand what's going on in terms of the data they collect. As with most things in the modern digital advertising world, you basically accept that Facebook is probably going to track as much as they can via their pixel and hoard all of that data so that they can build better advertising algorithms for to make as much money for the company as possible. Facebook, like Google, is in many ways primarily a Big Data company whose largest strategic business asset is data. Indeed, the Facebook data set is really second to none because of the nature of the personal information that is given to them freely by almost 2 BILLION people.
One additional point about the Facebook Pixel which makes me raise my eyebrows is the following quote from their
Help Center
.
"To improve your ads delivery, how Facebook measures the results of your ads, and in an effort to enhance the relevancy and usefulness of ads, we're enhancing the Facebook pixel. The Facebook pixel will start sending more contextual information from your website to better understand and categorize the actions that people take on your site to optimize for ads delivery.
The additional information sent through pixel will include actions on your page, like "add to cart" or "purchase" clicks, and will also include information from your page's structure to better understand context associated with these actions."
Facebook then makes you dig into their developer docs to get an understanding of the impact of that statement. Because marketers are
A)
. Going to dig into developer docs and understand what they mean and
B)
. stop using the Facebook pixel because it is collecting too much information or
C)
. update their code to opt out of the data collection. PLEASE somebody remind me to update this post with an explanation of what this *really* means on a technical level once we can start inspecting hits to the FB servers. My guess is that FB is going to collect a HUUUGE amount of information about every click on the site. Kinda like Heap Analytics auto-tracking without providing the end-user access to the data.
To quote my own tweet:
Oh, so it looks like Facebook is about to auto-track the crap out of **everybody.** https://t.co/kEv3dcWQZ9 cc: @AureliePols pic.twitter.com/L3pz7UN9Og

— Yehoshua Coren (@AnalyticsNinja) April 27, 2017
And to quote Facebook: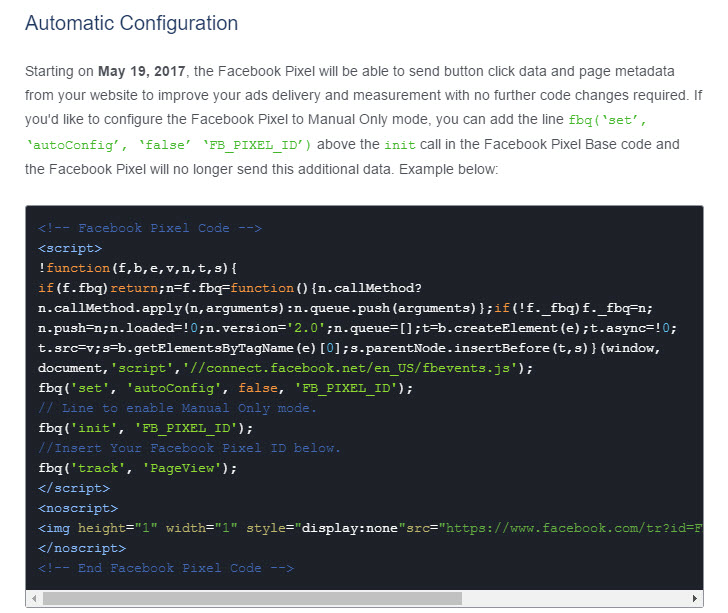 Click data and page metadata? And you need to add a "set" command to your code if you don't want to provide that info? Wow! To be honest, I'd love to be a part of that analytics team that has access to that much data just gobbled up from so many websites. If you're listening, Facebook, for $220,000/yr I'd consider joining your team.
But I digress…
Step 2 – Install Your Pixel Code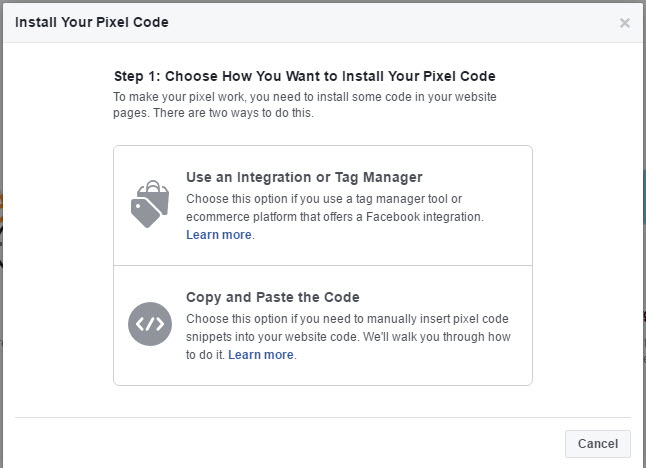 As a part of the process for installing the pixel, you can give Facebook access to GTM via API and they'll create a tag and trigger for you. Let's "not" do that, and install the tag manually so that we have more control over configuration.
Continue reading Guide: Facebook Pixel with Google Tag Manager