I recently discovered a discrepancy between the way that a client's Google Merchant Center account was performing on Google Product Search and Google Product Ads.
When I first set up Google Product Ads, I had assumed (oops!) that I would see the Adwords campaign in Google Analytics like the rest of my auto-tagged campaigns, complete with click and cost data applied.  I was wrong.  Nothing there.  (For now, cost data for Product Ads is being shown exclusively in Adwords, not in GA).  So I thought I wasn't getting any clicks on the campaign, as I tend to look at Google Analytics first and only later delve into the Adwords interface for additional data I might need.
What I did notice in my GA account was that my Google Merchant Center Feed (which I tagged as Googlebase), took a big hit in traffic recently.

I did my due diligence, and started asking questions in the organization  like, "did anyone update the feed recently?" etc, and almost wrote off the dip in traffic as an algorithm change in Product Search.
When I checked my Google Merchant Center backend, I found a big surprise…

My feed was DISAPPROVED, but I was still getting impressions.  Huh?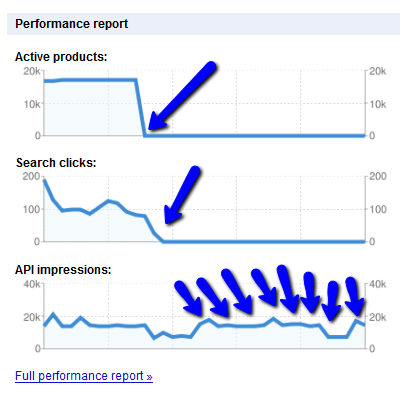 When looking at my individual product performance, what Google told me was that my feed was good enough for Adwords Product Ads, but NOT good enough to keep sending me free traffic.   While I'm not showing the product names in this next image to honor my client's privacy, note that each line in this chart represents an individual product.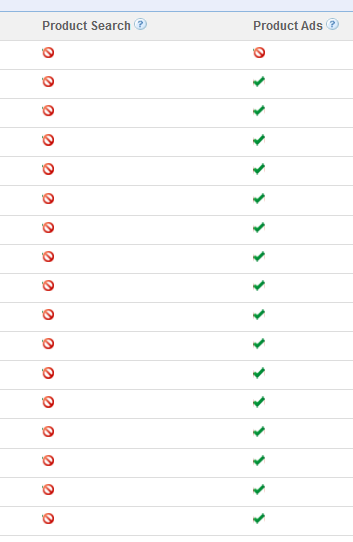 WOW – a lot of checks for Product Ads (paid), but the free clicks are all offline.

I guess that quality of this product feed is good enough to make Google money, but (recently) not quite quality enough to include in their product listings.